Office relocation can pose many growth opportunities for your business in terms of company size and market penetration. But moving offices requires meticulous planning and organization. Otherwise, it can be a big, expensive disruption for your business operations.
You want to set a target moving day and the date you want to officially resume operations so as not to affect your bottom line. This comprehensive timeline can help you keep your move on track and ensure a seamless transition.
12 to 6 months before moving day
You should start looking for a new home for your company as early as a year before your target move day. Scout for at least three options and compare which space would be the most suitable for your company and line of business. Here are two factors you want to consider in choosing a new head office:
Location: Is there a need or demand for your products or service in this area? How saturated is the market? If you're a brick-and-mortar retail store, how heavy is the foot traffic near your spot? Are there nearby parking spaces and public transport links for your customers and staff?
Future Growth: What's the projected growth of your company? Is the area large enough to accommodate a growing number of employees?
Also, compare the lease contracts of each location so you can choose which one is the most flexible for your company. You also want to assess the information and communications technology (ICT) infrastructure in the area to determine if it can support your operations.
Then set a final date for the move, so you know how much time you have and plan accordingly.
6 to 3 months before moving day
After you've settled on a location and worked out the details of the lease contract, it's time to set the budget. It's important to allocate funds after picking the new office address, so you already have important details like the rent and how far the old location is from the relocation site. This also allows you to conduct a thorough site inspection and determine the necessary refurbishments and repairs.
Generrally, this is also the time to plan the office space itself.  This means working on the interior design, contacting vendors and contractors, and communicating with other third-party service providers. Are you going to hire an office fit-out contractor? Do you have the time to visit multiple furnishings shops or just order your office furniture online? Are you planning to upgrade your equipment and other tech?
These are the things you have to decide on at least six months before the move to get a detailed and accurate approximation of your budget.
3 to 1 month before moving day
Finalize the office layout at least three months before moving day. By this time, you must have already settled with the interior design to align the seat plan with the theme or style you want. Prioritize ergonomics in planning your office layout to ensure that your employees will remain productive, engaged, and comfortable.
Also, ensure that you have the proper ICT infrastructure to support internal communications. Know which internet service provider offers the strongest and most reliable internet connectivity within that area to ensure efficient operations.
This is also the time to send out marketing materials, like press releases, social media ads, and email blasts to inform your loyal patrons, leads, and potential customers that you'll be moving to a new location. And don't forget to update the information on your brochures, business cards, signs, email signatures, online maps, and website. This important step allows you to maintain contact with clients and stakeholders as you move to a new location.
Last 4 weeks before moving day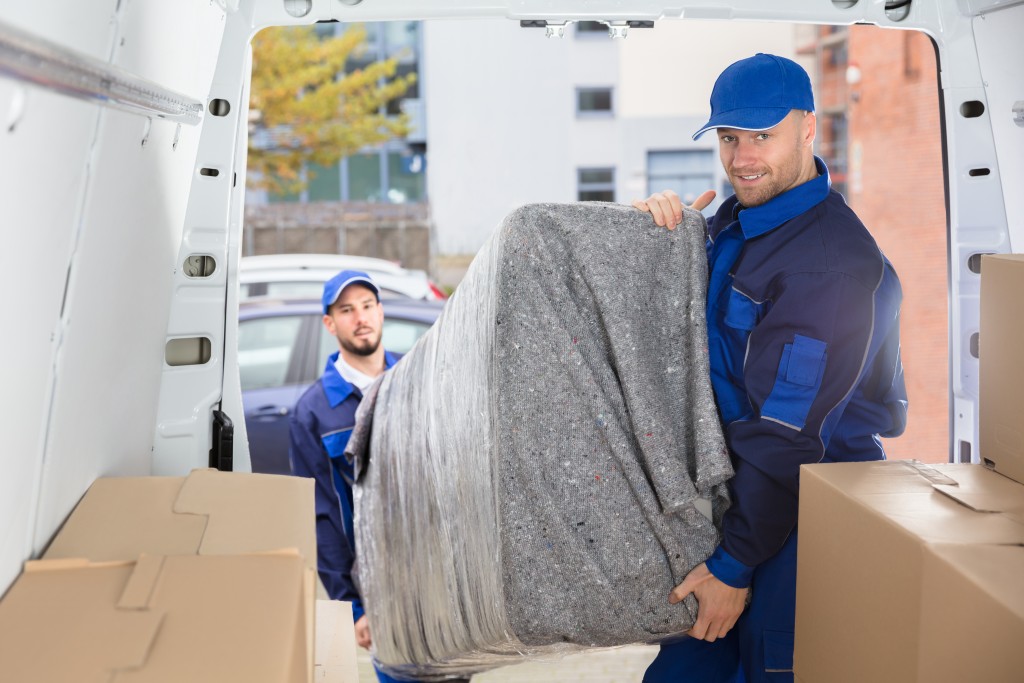 This period is reserved for finalizing your inventory, packing up the old office, and selling or donating old equipment. This also involves paperwork, like terminating your previous lease and deactivating certain utilities. Make sure you've cleared these things before moving on to the new location.
Then perform a final site inspection and address any remaining issues with your new office.
An important factor you shouldn't forget before the move is your employees. Establish a temporary working situation during the entire process, one that allows them to stay productive. Keep them updated about the entire process of the move so they'll be mentally, emotionally, and physically prepared for the transition.
Keep to your budget and the timeline to lessen the stress and avoid complications during your move. Plan the details of your move down to the last minute to ensure a seamless transition.